Should I Take a Lump Sum Settlement in Workers' Comp.?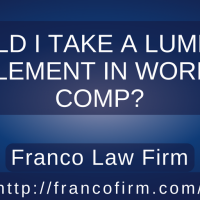 If you're injured in the workplace you have a choice to make when it comes to your workers' comp. The first option is to have regular payments, the second is to receive a lump sum from the insurance company. If you do choose the latter, it's vital you receive a fair amount as you may be relinquishing your future rights to any further payments (depending on the arrangement you come to – liability or no liability) even if they are related to the accident.
Lump Sum Settlement
A lump sum settlement can be sought at any point during a claim. It's when the employee in question opts to permanently agree to no longer pursue any further payments with regards to the injury, and they are awarded a one-off payment. This sum is meant to cover the costs of past, current, and perceived medical treatment, as well as future earnings and compensation for the injuries. Each case is different and it's ultimately up to you if you want to seek a settlement. It will be dependent on the specifics of your case, as well as your current financial and personal situation.
So how do you ensure you get a fair amount? Well the first step is ensuring you speak with experts in the field who have a background in these types of cases. It's integral your representation is well versed in workers' comp cases and knows how to negotiate to get you the best deal. They will be able to advise you on whether you can opt for a lump sum with liability or no liability, as well as if you can have your payment structured. They will also be able to figure out your permanent disability rating and work with you to calculate your loss of earnings, compensation, and future medical costs. Your attorney will additionally be able to ensure your workers' comp payments don't affect any future benefits (like social security).
Workers' comp cases can be extremely complicated and if you don't get a fair deal it could well impact on your life for years to come. Before accepting a settlement offer, speak to Franco Firm to make certain you're making the right decision.