What Happens if the Worker Fails to File a Claim for Workers' Compensation?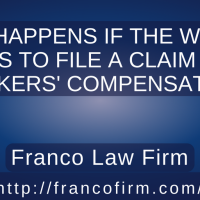 The workers' compensation program in America was designed to provide financial coverage to all employees that are injured while at work or on the job. This system, however, can only work as well as those who partake in it and there are certain procedures that must be undergone in order to receive these benefits. The first thing that an injured employee should do, barring any emergency medical attention, is report the incident to the human resources department of the employing company. Without documentation, there could be consequences if the worker fails to file a claim for workers' compensation.
Workers' compensation is a right, however it must be filed for in order to receive benefits from it. This makes sense, as it would be impossible to pay for medical treatment the company didn't know was going on. Some companies will stay on top of workplace incidents and help expedite the process by filing for the employee, however it should never be overlooked in this way and it is the responsibility of the individual to file for his or her own compensation benefits.
That being said, if an individual does not file for workers' compensation right away, there is hope. Although it varies from State to State, the vast majority of workers' compensation reports must be filed within 30 days of the incident. This also makes sense as some kinds of injuries, such as major bruises or whiplash, aren't diagnosed until a little time after the injury was inflicted. Due to this fact, there is a "grace period" to file for benefits, but they must still be filed eventually and in a somewhat timely manner.
If you or someone you know has filed for workers' compensation benefits and is still being denied, then there may be grounds for a lawsuit to win the compensation you deserve. When going through this process, we at the Franco Law Firm are here to help and guide you through every step. To schedule a free consultation with us today, please call us at (813) 872-0929.