Florida Farmworkers At Serious Risk of Heat-Related Injuries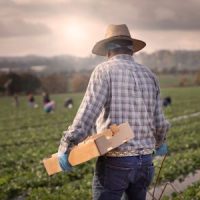 As temperatures spike, farmworkers across Florida are facing renewed threats from an age-old hazard: The sun. Throughout the history of agriculture, working under the baking heat has claimed many lives. A few thousand years ago, farming was carried out by slaves, peasants, and others who had no rights. Today, Florida farmworkers are supposed to enjoy various protections that one would associate with a civilized, fair society. Unfortunately, agricultural workers in the Sunshine State continue to suffer injuries and even fatalities.
Florida Farmworkers Fight for Protection Against Excessive Heat 
On July 18th, it was reported that hundreds of Florida farmworkers had assembled to lobby for new safety standards against excessive heat. In particular, they were seeking the implementation of three important measures:
Access to drinking water
Access to shade
Regular breaks
This is hardly a new development, as farm workers have been fighting for these rights for many years through various campaigns. But this large-scale assembly of workers shows that these individuals mean business. The issue becomes especially relevant during the summer months. In July of 2023, the State of Florida endured over 30 consecutive days of extreme heat. At least one farmworker tragically lost his life due to a heatwave in South Florida. The man lost his life after verbally complaining about fatigue and pain in his leg.
With all that said, the issue is complex. Many of these farms are located far away from any buildings or running water. For farmworkers to take breaks under shade, they may have to walk long distances to find a tree or a roof. Farm owners have pointed out that if they allowed their workers to take regular breaks under shade, it could mean hours of wasted time walking back and forth from the fields. To address this issue, farm owners may need to construct shady areas and create new infrastructure for access to running water. This could be very costly.
Despite these costs, it seems as though these changes are somewhat inevitable. Six other states have already created regulations that require access to water, shade, and breaks for agricultural workers. A new potential ordinance in Miami would go several steps further, however:
A mandatory heat exposure safety education program
Notices posted in multiple languages that inform workers of their rights
A new office specifically geared toward enforcing the regulations
Where Can I Find a Qualified Workers' Comp Attorney in Florida?
 Injuries caused by heat and sun are covered under Florida's workers' comp program. If you have suffered this type of injury, you are fully within your rights to file a claim. This form of compensation can provide income while you recover from heat-related injuries. If your family member lost their life due to a heat-related injury on the job, you can also file a claim on their behalf. Book your consultation with the Tampa workers' compensation lawyers today with the Franco Law Firm to get started with an effective action plan.
Source: 
nbcnews.com/news/latino/florida-farmworkers-exposed-deadly-heat-fight-protections-rcna94880