Another Fatal Crane Collapse in Florida: Why Does This Keep Happening?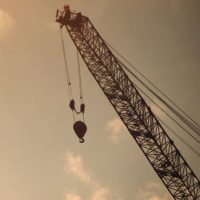 Construction safety in Florida is once again a major talking point after a fatal crane collapse. It's not clear why so many accidents occur at Florida construction sites – or why buildings and cranes seem to collapse on a regular basis. What is certain, however, is that something needs to change. Workers shouldn't have to risk their lives every day just to bring home a paycheck and feed their families.
How Did This Crane Collapse Happen? 
On October 4th of 2023, it was reported that a crane had collapsed in an Orange County parking lot. Workers were apparently trying to build a "noise wall" installation near an apartment complex in Hunters Creek when the accident occurred. The crane appears to have collapsed directly onto a worker, claiming his life. A second individual was apparently injured but escaped with only minor injuries.
The root cause of the crane collapse is still unknown, and there are a wide range possible explanations. Obviously, the relevant authorities will be looking into this incident with great interest. As far as consequences for any negligent parties, that remains to be seen. We do know that the company in charge of this project is the Hubbard Construction Company. If that name seems familiar, it may be due to the fact that the company was fined $15,000 in connection with the death of a 22-year-old worker back in March.
This is not the first time a crane has collapsed in Florida, and it probably won't be the last. While these accidents were previously quite rare, they seem to be experiencing an influx within the past few years. A few months ago, a crane caught fire before collapsing in the middle of Manhattan – the heart of the American empire.
While we can only speculate about the causes, there are a number of common causes for crane collapses. One is the lack of proper maintenance, causing the crane to degrade over time and become weaker. Cranes may also collapse when their loads are exceeded, and this is more common than you might think. According to various sources, improper assembly is the most common reason for crane collapse. Another potential catalyst is poor weather, although this is somewhat rare. Whatever the case, a full investigation is necessary not only to prevent further deaths, but also to provide a sense of closure and justice for the family of the deceased worker.
Where Can I Find a Qualified, Experienced Workers' Comp Attorney in Florida? 
There is nothing that anyone can do when a worker loses their life at a Florida construction site. Still, it is worth taking steps to pursue financial security after such an incident. If you are the loved one of someone who lost their life at a construction site, you may have the ability to file a wrongful death claim. This could provide income for your family in a time of serious need. Reach out to the Tampa personal injury lawyers at the Franco Law Firm today to learn more about your legal options.
Sources: 
foxnews.com/us/florida-crane-collapse-leaves-one-construction-worker-dead-another-injured
practical.engineering/blog/2021/8/2/why-cranes-collapse