Healthcare Worker Injuries And Workers' Compensation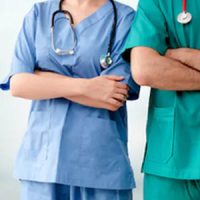 Hospitals and health care facilities are among the most dangerous places that a person can work. Indeed, according to the Occupational Safety and Health Administration (OSHA), hospitals in the United States reported more than 221,000 workplace injuries in 2019 alone, and health care workers in hospital settings sustain an average of 5.5 work-related injuries or occupational illnesses for every 100 employees. It is important for health care workers, as well as for health care facilities and employers, to understand the hazards that employees face on the job and to learn more about injury prevention. Health care workers should also learn more about their options for seeking workers' compensation benefits if an injury does happen on the job.
Learning More About Common Health Care Injuries 
As data from OSHA shows, hospital workers have the highest injury rates among workers when compared with workers in manufacturing and construction (all dangerous and hazardous industries). Compared with the average number of worker injuries in private industry, hospital workers and health care professionals have a markedly higher rate of injuries on the job. Health care workers in hospitals, at nursing and residential care facilities, and in ambulatory care all are at risk of serious injuries at work. The following are the most commonly reported types of injuries, according to OSHA:
Sprains;
Strains;
Bruises;
Soreness and pain;
Fractures;
Cuts;
Punctures; and
Multiple traumas.
Preventing Health Care Worker Injuries
A large number of injuries among health care industry workers result from overexertion—nearly 50 percent of all reported health care injuries. Other common causes of injuries in hospitals and other health care facilities include slips and falls, trips and falls, contact with objects, transportation accidents, exposure to hazardous or harmful substances, and workplace violence. It is thus essential for health care workers to take safety precautions, and to ensure that their employers have systems in place to prevent injuries.
There are many ways to prevent overexertion injuries, including training related to proper lifting and regular breaks. Slips and falls often occur in hospitals as a result of slick flooring or liquid spills. It is important for employees to wear appropriate footwear and for any substances on the floor to be cleaned quickly. Hospitals and other health care facilities should also ensure that procedures are in place to avoid exposure to hazardous substances and to diseases, with additional protocols in place to handle exposures.
What an Injured Health Care Worker Should Do to Seek Workers' Compensation
 If a health care worker is injured on the job, they should report the injury or occupational disease to their employer as soon as possible (within 30 days at a maximum) and should seek a medical evaluation and subsequent care from an approved provider. An experienced Tampa workers' compensation lawyer can assist with the workers' compensation claims process and appealing and denials of benefits.
Contact a Tampa Workers' Compensation Attorney 
If you work in a hospital or another health care setting and got hurt on the job or were diagnosed with a job-related disease, one of the experienced Tampa workers' compensation attorneys at the Franco Law Firm can help you to seek the compensation and care you need.
Sources:
osha.gov/hospitals
leg.state.fl.us/statutes/index.cfm?App_mode=Display_Statute&URL=0400-0499/0440/0440ContentsIndex.html