Top Crane Hazards in Tampa Construction Sites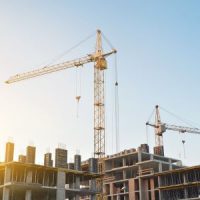 Cranes are more hazardous than many construction workers in Tampa realize. They can cause a range of different injuries, and in many cases they can also cause fatalities. Unfortunately, cranes are necessary for a wide range of construction work, including the creation of high-rise buildings. But what are the top hazards in Tampa construction sites? More importantly, what can you do if you have been injured in a crane accident?
Crane Collapses 
Perhaps the worst possible thing that can happen to a crane at a construction site is a collapse. These accidents have the potential to injure or kill a number of construction workers. On June 1st, it was reported that four workers had been hospitalized after a crane collapse in Delray Beach. All four of these victims were inside the crane when it collapsed, and no one was underneath. Images show the crane lying on its side in the middle of a construction pit. The OSHA is still working to determine why the crane collapsed, although it was likely due to excessive load. According to the OSHA, four out of five crane accidents are caused by exceeding the rated capacity.
Falling Materials 
Materials may also fall from cranes, causing serious hazards to workers below. These accidents are almost always caused by improper use of the crane. For example, a crane operator might swing a load too fast, causing materials to spill from a bucket and fall onto workers below. Or the workers themselves may fail to secure a load properly to the crane, causing it to come loose in mid-air and fall on other workers. Sometimes, falling materials can be caused by mechanical failure without any human error.
Lack of Proper Maintenance 
Speaking of mechanical failure, the lack of proper crane maintenance can easily cause serious accidents. A number of components must be inspected, repaired, and replaced on a regular basis. These components include ropes, wires, and structural components. All new cranes must be inspected, and each crane must also be inspected before each shift. Periodic, more intensive inspections must be carried out throughout the year. These recommendations have been made by the OSHA.
Can I Find a Workers' Comp Claim after a Crane Collapse? 
If you have suffered a serious injury due to a crane collapse, you should have the ability to file a workers' comp claim. Construction companies in Florida are required to carry workers' comp insurance, and you have a right to compensation as an injured American worker.
Where Can I Find a Qualified, Experienced Workers' Comp Attorney in Tampa? 
If you've been searching for a qualified, experienced Tampa workers' comp attorney, look no further than the Franco Law Firm. With our assistance, you can strive for a fair worker's comp settlement. This settlement can help you cover missed wages and emotional distress. If you have lost a loved one in a crane accident, you can also file on their behalf and receive compensation. To get started with an effective action plan, be sure to book your consultation as soon as possible.
Sources: 
americancrane.com/top-3-major-crane-hazards-and-how-to-avoid-them/
wpbf.com/article/florida-four-workers-hospitalized-crane-collapse-delray-beach-sundy-village/44066832#