What Can a Worker Do if He/she Is Not Satisfied With the Judge's Decision About Their Workers' Comp?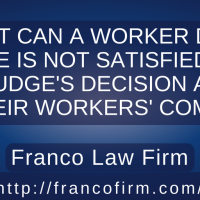 If you have been injured while at work or on the job, you are entitled to receive financial benefits in order to cover the medical costs and recovery time for those injuries. This is known as workers' compensation and is a right granted to all employees. If the company or its insurance carrier attempts to deny you these benefits, you also have the right to file a lawsuit against them in order to win your compensation. What happens if this does happen, but you are still not satisfied with the judge's decision?
The options at this stage are somewhat limited, however they certainly are there. You can sometimes appeal to have a decision overturned, although this does depend on the circumstances of the case and suit. Sometimes you can try to make a settlement with the employing company or insurance carrier to take a slightly smaller amount of money in order to end the lawsuit and begin collecting some kind of benefits.
The best thing that you can do for yourself however is to consult with an attorney that is well-versed in workers' compensation law. A skilled and experienced attorney will understand that each case is a little different and that the complexities in these differences can mean victory or defeat in a lawsuit. Moreover, an attorney will be able to advise you on the next best decisions and work with you to see the most amount of benefits won.
We at the Franco Law Firm have helped many people in Tampa Bay and beyond fight for and win the compensation that they deserved and would be happy to help you do the same. To learn more about the services we offer and to schedule a free consultation with us today, please call us at (813) 872-0929.