Why Do We Need Workers' Compensation Lawyers?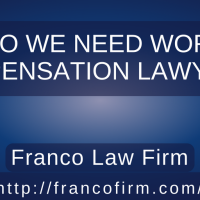 If you've been injured and are seeking a claim for workers' compensation, you might be wondering if you need a lawyer to help and what it is they do in cases like this. The simple answer is they are well versed in this type of law, and if needed, can ensure you get a more substantial amount which reflects how the injury has changed your life.
Workers' compensation is an insurance practically every organization needs to provide. It's designed to protect employees no matter what the accident, covering the replacement of income, compensation of injuries, cost of medical care, and of any training needed. It's paid on a regular basis from the insurance company to the employee.
Complications can arise when the insurance company refuses to pay. If this happens, it's integral you find proficient representation to help guide you and see if you should appeal. Sometimes there's a small mistake which can be easily rectified, other times the refusal is due to missing deadlines (which are notoriously strict and short in this type of law). If you do choose to appeal you'll need an attorney who has experience in this field. Appeals can take a long time and are a complicated process, so your representation needs to know the procedure inside out to ensure your success.
You may also choose to speak with a compensation lawyer if you're in the process of reaching a settlement. A settlement with an insurance company is a voluntary option where both parties agree on a lump sum, often giving up future claims related to the injury. Having a lawyer on your side in your settlement can elongate the process as there tends to be more negotiation, however it also means the payment is often a third more than in cases with no representation.
The purpose of workers' compensation lawyers is to have someone on your side that can help you get a fair settlement. Insurance companies should in theory pay you a reasonable amount for your injuries, but sometimes that isn't the case. If you have serious, life-changing injuries it's vital you have the guidance of a compensation lawyer to guarantee you have sufficient money to take care of yourself and your family. If you need help with your workers' compensation case, speak to the experienced team at Franco Firm.