What Are My Workers' Comp Rights as an Employee?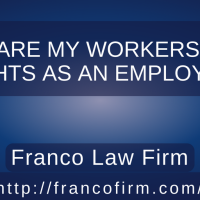 Being injured in the workplace is more common than you might think, so it's imperative to know what your rights as an employee are.
No matter what state you're in, your employer has to legally provide you with a safe environment to work in. If you do get hurt whilst in the workplace you'll be eligible to receive workers' comp benefits, which help to lessen the financial burden – especially if you have expensive medical treatments to pay for.
As this type of compensation is fairly common everyone should be aware of their legal rights:
In order to be in the best position right from the start, report your injury to your employer as soon as possible. Deadlines can be very strict when it comes to workers' comp law, so ensure you do this promptly.
What happens next is dependent on the state; for example in Florida your employers will arrange for you to see a doctor of their choosing (unless of course it's an emergency) and they will then contact the insurance company. They must do this within seven days. It's then up to the insurance company to accept or deny your claim, which may involve further investigation.
The insurance company is legally required to come to a decision within a timely manner. If your claim is denied you must then file paperwork with the DWC (Division of Workers' Compensation). Again if you don't do this within the statute of limitations (two years) you'll lose the right to claim benefits. At this point you should speak with a lawyer for guidance on how to best proceed.
Your employer cannot fire you for claiming workers' comp, however they are under no legal obligation to keep your role open. Your benefits will not be affected by this.
Your Rights
You have the right to file a claim in a workers' comp. court
You have the right to see a doctor, receive medical treatment and seek retribution for said treatment.
You have the right to return to your job if you are deemed fit and health
If you're unable to return to work due to the incident, you have a right to seek financial compensation
You have the right to appeal a decision made by the court, your employer, or the insurance company
You have a right to legal representation throughout this process.
If you need to know more about your rights, speak to Franco Firm.