Can I Seek Workers' Compensation Benefits For Heat Illness?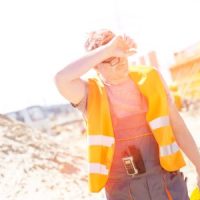 Workplace injuries rise when the temperatures increase, according to a study reported in The New York Times. To be sure, regardless of whether work injuries involve heat illness or not, accidents and injuries are more likely to occur when the temperatures are rising. As that article notes, when outdoor temperatures are between 85 and 90 degrees Fahrenheit, "the overall risk of workplace injuries, regardless of the official cause, was 5 to 7 percent higher than days when the temperatures were in the 60s." Then, when temperatures rise to 100 degrees Fahrenheit or higher, the "overall risk of injuries is 10 to 15 percent greater." The average high temperature in Tampa from June through August is above 90 degrees, suggesting that summer injuries at workplaces are a very real risk.
While hot temperatures may increase the risk of all workplace accidents, the likelihood of a heat-related injury or illness increases significantly. You should know that you can seek workers' compensation benefits for heat illness and other heat injuries, and our Tampa workers' compensation lawyers can help.
Heat Illnesses and Injuries Occur at Florida Workplaces 
Workers who are engaged in physically active work are at a particularly high risk of heat-related illnesses during hot weather, according to the Occupational Safety and Health Administration (OSHA). There are several kinds of heat illnesses that can result from exposure, including the following:
Heat stroke;
Heat exhaustion;
Heat cramps;
Heat syncope;
Heat rash; and
Rhabdomyolysis (or muscle breakdown).
Each of these types of heat-related illnesses or injuries have their own specific symptoms, but fainting, dizziness, weakness, and fatigue are common to many of them. Heat stroke is the most serious of all of these types of heat-related injuries, and OSHA explains that "workers suffering from heat stroke experience mental dysfunction such as unconsciousness, confusion, disorientation, or slurred speech" and require emergency medical treatment. If left untreated, heat stroke and other heat-related illnesses can be fatal.
Common Tampa Jobs Where Heat-Related Illnesses Can Occur 
Heat-related illnesses can affect workers in many different kinds of jobs, but certain industries in Florida have a higher risk than others. Common Tampa jobs where heat-related injuries can occur include but are not limited to:
Farm and agriculture work;
Road construction;
Roofing;
Landscaping work;
Delivery work, especially on foot;
Working in a kitchen or bakery;
Working in a laundry;
Boiler room work; and
Manufacturing work near a heat source.
File a Workers' Compensation Claim for a Heat-Related Illness 
To be eligible to file a workers' compensation claim for a heat-related illness, the illness or injury must fit into the category of "arising out of and in the course of employment." For nearly all Tampa-area workers who suffer work-related heat injuries on the job, this requirement is met. The worker then must report the heat illness to their employer within 30 days to receive Florida workers' compensation benefits.
Seek Advice from a Tampa Workers' Compensation Lawyer 
If you need help filing a workers' compensation claim after suffering a heat-related illness on the job, one of the experienced Tampa workers' compensation attorneys at Franco Law Firm is here to help.
Sources:
nytimes.com/2021/07/15/climate/heat-injuries.html
leg.state.fl.us/statutes/index.cfm?App_mode=Display_Statute&Search_String=&URL=0400-0499/0440/Sections/0440.11.html
osha.gov/heat-exposure