Workers' Compensation And Restaurant Employees: 5 Things To Know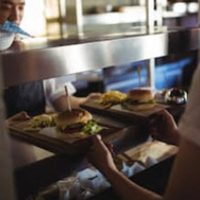 Restaurant workers are frequently injured on the job in the Tampa area, and it is important for restaurant workers to know how injuries happen in restaurant jobs and what steps can be taken to avoid a serious injury. In addition, it is important for any restaurant worker to know how they can obtain compensation for their injuries through the workers' compensation system in Florida. The following are five things to know about workers' compensation and restaurant employees in Tampa.
Restaurant Worker Injuries Are Common 
Injuries affecting restaurant workers are extremely common. Indeed, according to QSR Magazine, approximately one out of every 20 workplace injuries occurs in a restaurant, and any kind of restaurant worker can be injured. To be sure, chefs, servers, hosts, cleaning staff, and even office workers handling restaurant finances.
Many Types of Workplace Injuries Harm Restaurant Employees 
Restaurant worker injuries can vary widely, and many kinds of workplace harms result in missed workdays. As QSR Magazine explains, the following are the most common types of workplace injuries among restaurant employees:
Lacerations, especially among chefs and kitchen workers;
Burn injuries, which commonly affect kitchen workers and servers;
Sprains and strains, which can affect almost anyone in a restaurant who is working; and
Eye injuries, usually as a result of grease splashes or cleaning chemicals. 
Restaurant Work Injuries Can Be Prevented 
There are many different ways that restaurant worker injuries can be prevented, from injuries in the kitchen to those on the floor of the restaurant. The following are steps that can be taken to reduce the possibility of workplace injuries at a restaurant:
Floors should be regularly observed for liquid spills and other issues that could result in slips and falls, and non-slip mats should be placed in areas where slips and falls are likely to occur due to slick flooring;
Workers should wear protective wear, especially in the kitchen to protect their hands from knife cuts and burns;
Pathways should always be kept free of tripping hazards;
Restaurant workers should be properly trained to avoid injuries when lifting, as well as when using knives and any heavy equipment. 
Part-Time and Seasonal Restaurant Workers Can Be Eligible for Workers' Compensation Benefits 
Florida compensation coverage is not just for full-time restaurant workers. In fact, both part-time and seasonal restaurant workers can be eligible for compensation under Florida workers' compensation law. 
Restaurant Workers Must Report Their Injuries in a Timely Manner and Follow All Requirements Under Florida Law 
Restaurant work injuries must be handled like any other workplace injury in terms of workers' compensation requirements. You will need to report your injury within 30 days, and you will need to obtain medical care from an approved provider.
 Contact a Tampa Workers' Compensation Lawyer 
If you were injured while working in a restaurant in the Tampa Bay area, you may be eligible to obtain workers' compensation benefits. Do not hesitate to contact one of the experienced Tampa workers' compensation attorneys at Franco Law Firm to learn more about how we can assist you with your claim.
Sources:
leg.state.fl.us/statutes/index.cfm?App_mode=Display_Statute&URL=0400-0499/0440/0440ContentsIndex.html
qsrmagazine.com/news/top-four-restaurant-injuries