Can I Work While I'm Getting Workers' Comp?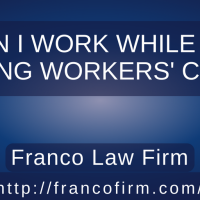 When a person is injured while on the job, he or she is entitled to receive financial compensation from the employing company for said injuries. This is true regardless of the nature or severity of the injury. There are many kinds of injuries that are serious and require the individual to focus completely on recovery. Some are not however and may allow for an individual to return to work. The question that often arises is: can someone work while receiving workers' comp benefits?
The simple answer is that no, a person may not continue to work or find a "second job" while collecting benefits from workers' compensation. The reasoning behind this is that the focus for the individual should be on healing and, if they are well enough to work, there would be no need for continued medical treatment. There are legal punishments in place for those that do work at another company while collecting benefits from the initial one, so it is not recommended.
That being said, there are situations where an individual may be placed on "light duty." This means that the person is able to work a little bit, although not in the same capacity that they were before the injury. This situation typically occurs when the injury was not majorly severe or if recovery is nearly, yet not fully, complete. Working fewer hours or at a different task must be completed with the same company dispensing benefits and is up to the discretion of the company.
Workers' compensation is a right and managing it correctly is key to successfully collecting benefits from it. If you or someone you know has been denied workers' compensation or otherwise not receiving proper benefits, there may be grounds for legal action. To learn about we at the Franco Law Firm can help you in these matters, please call us at (813) 872-0929 to schedule a free consultation today.