Can My Employer Fire Me if I'm Injured?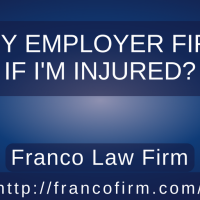 When someone is injured while at work, he or she is eligible to receive compensation from the employer to cover medical costs and lost wages. This system is rightfully called workers comp and is meant to protect the financial stability of individuals that are suffering through injury recovery and the inability to work. When going through the workers comp process, sometimes employers will let go of an employee before they have to dispense funds. Is this legal and can a company really do this to someone?
The answer to that question varies from state to state but, in Florida, it is illegal for an employer to fire someone while they are in the middle of a workers compensation claim. This is known as retaliation in the legal world and it is a shady tactic that some businesses will try to use to get out of having to pay workers comp claims. It may seem innocent enough at first; for example the employer may say that there are "budget cuts" or something of the like, but make no mistake, there is intent behind that.
The exception to this scenario is that if an employee is unable to work for an extended period of time, the company is not legally required to hold the position for them. They must however still pay disability benefits and have a position still for him or her upon the employee's return. Some companies will attempt to use this as a loophole to get out of paying any kind of benefits, but the end goal is the same.
Thankfully, if you or someone you know is involved in a situation like this with an employer, you can fight back. We at the Franco Law Firm believe in keeping companies in check and will fight for and with you to ensure that you receive the compensation you deserve and need. To schedule a free consultation with us today, please call us at (813) 872-0929.