How Can I Find a Lawyer to Review My Employment Contract?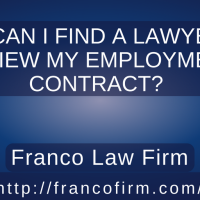 Whenever someone applies and succeeds in being hired for a new job, there is a contract that is signed that officializes that fact. This document, appropriately called an employment contract, lays out all of the terms of the employment, including salary, hours to be worked, and the rights that employee has with the company. Oftentimes, the new employee will merely glance through this document, viewing it as only a formality to beginning a new job. Should it be looked over more carefully however?
The vast majority of the time, there will be standard, legal matters handled in an employment contract. Sometimes, however, companies will try to deny an employee basic employment rights that should be there. That is why it is always recommended to look over an employment contract before signing it. It may not seem relevant in the moment, but when an incident occurs later, it is best to know what the options are.
Most people are not familiar enough with legal terms to adequately review an employment contract, which is why it is recommended to find a lawyer who is. How would one go about that? The best way is to do a search for lawyers in one's own local area, as they will likely have the most experience with county and state laws. Moreover, you also want to keep in mind how long an attorney has been at his or her work, as experience will speak for itself. Finally, many lawyers specialize in certain matters, so knowing that one is for reviewing contracts is a good idea.
At the Franco Law Firm, we have proudly served the Tampa Bay area for many years and have experience in all forms of employment law, including contract review, Social Security, and workers' compensation. To learn more about how we can serve you, schedule a free consultation with us today and have all your legal questions answered. We can be reached at (813) 872-0929.