Your Child Was In A Car Accident — What To Do Next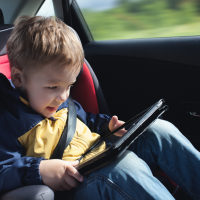 Car accidents are incredibly distressing. The crunch of metal, jerk of your seatbelt, and smell of burnt rubber are enough to traumatize any adult. Imagine going through one as a child. If you are a parent who has been through a car accident with your child in the vehicle, you can offer vital support to them immediately following the event and for the months to come. We have a great deal of experience in Personal Injury at Franco Law Firm so we've got you covered.
Here are 7 steps you should take if you and your child experience a car accident:
Check on injuries. Make sure you and your child are not physically hurt by the collision or take stock of what injuries have occurred. If you can help your child with a minor wound, it is essential to safely exit your vehicle with the child and help them. If the injury is more critical, for example, if your child is non-responsive or experiencing back or neck pain, we recommend you leave their extraction to professionals. The only exception is an emergency that requires immediate removal. Not doing so could incur more damage to your child. Paramedics or police will know how to move the child without further injury.
Call 911. Regardless of whether or not you believe there is an injury, it is important to have a professional provide a medical examination and document the circumstances of the car accident. Of course, you should take your own pictures and documentation for your auto insurance company. However, police should be there to direct traffic, take official records of the accident, and ensure everyone is safe. According to the Florida Department of Highway Safety and Motor Vehicles, almost half a million car accidents happen annually, and nearly 50,000 cause injuries. Since you are likely not an expert in auto accidents, it is safest to involve people who deal with accidents every day.
Receive medical attention. It is best practice to have an EMT take your vitals and ask you questions about you and your child's body. Adrenaline can mask injuries, but an EMT will know where to look. Do not risk your or your child's health by refusing medical care!
Monitor your child. This is exceptionally important in the hours following the accident. There may have been a minor concussion or something that appeared minor, but is much worse. Listen to your child. If anything feels off, do not hesitate to get your doctor involved. As they say, it is better to be safe than sorry. Nothing is more important than your child's health.
Schedule follow-ups. If your child sustained injuries, keep an eye on them for the weeks and months to come. Injuries can worsen with time. Keep all records of medical appointments, medical records, and medical costs. If you seek compensation for them in the future, maintaining records from your doctor is more credible in court than your personal notes.
Recovery from trauma. Car wrecks can be traumatizing, especially for children. Kids are often resilient, but they can have social or emotional changes as a result of the accident. That is normal following an auto wreck, and it is crucial you know regardless of circumstances around the wreck, you are not to blame for that trauma. Talk to your child, regardless of age, about the facts of the wreck and the most important part: that you and the child are now safe. Keep conversations about the car accident present and focus on the fact that it is not happening now. Speaking in hypotheticals or being overprotective will not serve them. Forcing them to talk about it can be harmful, but so is avoiding the topic altogether. Be open to listening to them and feel comfortable talking about the accident in terms of facts and correcting misunderstandings.
Contact an attorney that specializes in personal injury. Recovery takes time. It requires support, and we at Franco Law Firm are here to support you. Medical care for physical and mental traumas that follow a car wreck adds up. If you are not at fault for the auto accident and, in some cases, if you are, you will be eligible for certain types of compensation from the person at fault or the insurance company.
Manuel Franco of the Franco Law Firm has been serving the Tampa Bay area for years. We are skilled at winning compensation for your personal injuries. If you, your child, or someone you know, has been injured in an auto accident, please feel free to call us at (813) 872-0929 to schedule a free consultation and get the care you need with the financial support you deserve.