Claiming an Injury from an Amusement Park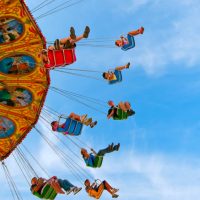 As Florida and many other states slowly reopen, so are amusement and theme parks! Some of our most well-known parks like Busch Gardens, Universal, and Disney World are already starting to re-welcome their guests! Although we are excited to see our city return to somewhat normalcy and eager to ride some of our favorite roller coasters, it's always important to understand your safety and the possible injuries that could happen while at an amusement park. In the unfortunate event that you get injured or an accident occurs, are you able to sue? Who is at fault?
The Claim:
When filing your claim, you most likely will find yourself dealing with multiple parties. All amusement parks are owned by someone, so depending on the injury, and where or how it happened, the legal responsibility could either stem from the owner, a vendor, the designer or manufacturer of a ride or possibly a whole other company. Product liability, premises liability, and negligence are some of the more frequently seen cases when it comes to proving fault, and they could play a factor in your claim. Everyone at the amusement park has a duty to protect their guests, as do the rides, so if that duty is somehow violated, they could definitely be held liable for your injuries.
The Injury:
The accident that caused the injury, is of course the main concern when filing your claim against the park. Were you injured due to park/employee negligence, product/manufacturer malfunctions, or perhaps rider non-compliance with safety rules? All of these are crucial details that need to be thoroughly inspected and recorded upon the claim being filed. Like always, be sure to take any necessary photos, and detailed notes, explaining what happened. 
When accidents happen and a person finds themselves in a harmful situation, it is natural to want justice for the injuries sustained. Moreover, the rising costs of physical injury, such as medical bills, hospital stays, and numerous doctors' visits make life even more difficult to deal with. Thankfully, you don't have to be alone during such a turbulent time and we are here to help every step of the way. If you are in need of legal assistance, Contact Franco Law Firm at (813) 872-0929, or Email us at rvelez@francofirm.com. We'll treat your case with quality and importance.