Crane Accidents In Florida: The Unseen Threat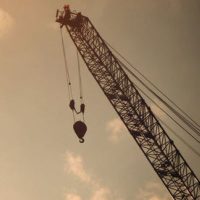 Most people never think twice when they stroll past a crane at a construction site. Cranes are common in many of Florida's biggest cities – including Tampa and Miami – where developers constantly erect new buildings. But what happens when one of these cranes collapses? The occurrence is more common than you might think, and it puts everyone at risk. Those that experience the most serious consequences are often the workers in the immediate area. What can you do if you were injured by a crane collapse in Florida? What if you lost a loved one? Let's find out:
Another Crane Accident in Florida 
On March 21st, it was reported that a Florida worker had lost their life due to yet another crane accident. This latest incident took place in Key Largo, and it involved a crane falling into the water. Apparently, the crane was sitting on a barge, and the barge tipped over. This sent the crane operator tumbling into the water. He and another team of workers were constructing a dock for a new home. The crane in question was quite small, but it may have trapped the individual under the water. The local sheriff's office stated that they were investigating the incident.
Why Are Crane Accidents so Dangerous? 
Cranes can easily become lethal when they fall over due to their size and weight. It's difficult to get out of the way when these giant machines come tumbling down. Cranes also carry heavy objects that come toppling down if a small mistake is made, and these objects can easily kill people on the ground.
Remembering Florida's Most Notable Recent Crane Accident 
The most notable recent crane accident in Florida occurred a few months ago. This incident involved a construction site on I-95 in Broward County. A crane was apparently carrying a worker in a bucket when something went wrong – sending the worker toppling to the ground to his death. Something clearly went wrong with the crane, as it was unable to hold the individual in the air. There seems to have been a series of disagreements between the state transportation department and a construction company contracted for work. An investigation determined that this construction company had seen two other deaths in recent months and years – including another crane accident in 2021 and a hit-and-run at a construction site that left a sheriff's deputy dead.
Where Can I Find a Qualified, Experienced Workers' Comp Attorney in Florida? 
If you've been searching for a qualified, experienced Tampa workers' comp attorney, look no further than the Franco Law Firm. We know how dangerous crane collapses and other workplace accidents in Tampa can be. If you have been injured, we can guide you towards the compensation you need and deserve – even if your claim has already been denied. We can also help surviving family members file workers' comp claims if they have lost loved ones due to these tragic accidents. Book your consultation today to get started.
Sources: 
local10.com/news/local/2023/03/21/worker-dies-after-plunging-into-water-in-key-largo-construction-accident-sheriff-says/
sun-sentinel.com/local/broward/fl-ne-crane-collapse-company-investigation-20221208-erom4ei5fzaalgemyl3rvwhpre-story.html