Florida Teen Falls 20 Feet While After Being Hired Illegally As A Roofer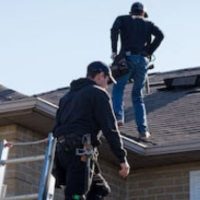 As any tradesperson in Tampa will tell you, roofing is one of the most dangerous jobs in the state. It's definitely not something you'd want your 15-year-old son or daughter doing – especially if they were working for a company with a history of serious safety violations. Unfortunately, one teen recently paid the price after working for a roofing company near Orlando. Not only was he injured, but also should never have been working for the company in the first place due to his age.
Why Was a Teen Working as a Roofer? 
This is the question on everyone's mind after a shocking report from the Department of Labor. According to investigators, a 15-year-old fell about 20 feet off a two-story building – an accident partially caused by the lack of federally-required fall protection safety equipment. The teen spent six days in hospital as a result, and he is still on the road towards recovery.
Obviously, the teen should not have been working as a roofer from a purely ethical standpoint – but also from a legal perspective. Child labor provisions in the Fair Labor Standards Act clearly ban employers from hiring minors under 18 to carry out any work that involves the use of ladders or scaffolds – and this includes roofing work.
The company that hired this teen also violated a regulation banning children from working for more than three hours on school days and more than 18 hours during school weeks. Furthermore, the company completely failed to make a record of the worker's date of birth.
Further violations included the misclassification of other workers as independent contractors, failure to pay workers overtime, failing to pay workers for all hours workers, improper use of ladders, lack of safety training, lack of guardrails, lack of safety nets, and lack of personal fall arrest systems. This led to over $170,000 in fines.
Does This Constitute Gross Negligence? 
These types of safety violations may be classified as gross negligence, especially since a child was involved. If this is the case, then plaintiffs may have the opportunity to sue employers directly instead of going through the workers' comp system. This is advantageous because the potential settlement can be higher, as pain & suffering is taken into consideration. Damages for pain & suffering cannot be claimed in a workers' comp claim.
Where Can I Find a Qualified Workers' Comp Attorney in Tampa? 
If you've been searching for a qualified, experienced Tampa workers' comp attorney, look no further than Franco Law Firm. We know that there are trades companies all over the state that are breaking serious safety violations as you read this article. These companies must be held accountable, and at the very least you deserve a workers' comp settlement to cover your medical expenses and missed wages. Book your consultation today to get started with an effective action plan.
Sources: 
roofingcontractor.com/articles/98046-osha-fines-florida-roofing-contractor-over-severe-workplace-injuries-to-minor
patch.com/florida/clearwater/clearwater-sanitation-worker-seriously-injured-when-struck-vehicle