Filing A Workers' Comp Claim For Repetitive Strain Injury In Florida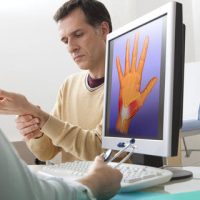 Also known as a "RSI," a repetitive strain injury is one of the most common issues people face at Florida workplaces. Although this might seem like a minor injury, it has the potential to affect you for the rest of your life. Treatment can be expensive, and serious cases can prevent you from going back to work and earning a living. You shouldn't have to expose yourself to these kinds of injuries just in order to put food on the table. Fortunately, it may be possible to file a workers' comp claim and recover compensation for your injuries. But how exactly do you do this in Tampa? How can a workers' comp claim attorney help you?
Examples of Repetitive Strain Injuries 
The term "repetitive strain injury" is really a category rather than a specific injury. Examples of RSIs include:
Tendonitis
Neuritis
Fascitis
Myositis
Carpal tunnel syndrome
Thoracic outlet syndrome
Cubital tunnel syndrome
Degenerative arthritis
Tendonitis
Fibromyalgia
Herniated disks
Focal hand dystonia
Neuropathic pain
There are many other examples of RSIs, but they all have one thing in common: They are caused by heavy, stressful, and repetitive motions that require accuracy and progressive task difficulty. If your job involves doing the same actions repeatedly over many hours, you are at risk of developing many of the injuries mentioned above. 
Causes of Repetitive Strain Injuries
 There are many jobs and tasks that commonly cause repetitive strain injuries, such as:
Hairdressing
Decorating
Typing
Working on an assembly line
Sports
Poor posture while sitting at a computer
Using hand-held tools (including power tools) regularly
Ultrasonographers
Dental work
Cleaning
Cooking
Driving
Martial arts
Musicians
Twisting
Bending
Reaching behind the body
Bending backward
Stooping
Warehouse Workers Are at High Risk
 It's also worth highlighting the fact that warehouse workers are at a particularly high risk for RSIs. In fact, the federal government is now investigating potential safety violations and high levels of RSIs at Amazon warehouses in Florida and throughout the nation.
 Can You File a Workers' Comp Claim for a RSI While Working at Home? 
Many workers now work from home, and RSIs have become more common with so many people typing on their home computers. It's true that workers may encounter issues when filing RSI workers' comp claims while working from home – but you still deserve compensation. Many denied claims can be appealed and overturned with help from a qualified attorney.
Where Can I Find a Qualified Workers' Comp Attorney in Tampa? 
If you've been searching for a qualified, experienced Tampa workers' compensation attorney, look no further than the Franco Law Firm. We know that traumatic stress injuries are serious, and you deserve compensation if your job has caused these hardships. Book your consultation today, and we can assist you with any issues you might be having with your workers' comp claim – including denied claims. Reach out now to get started with an effective action plan.
Sources: 
marketplace.org/2023/01/24/in-a-world-where-millions-work-from-home-what-does-it-mean-to-be-injured-on-the-job/
patient.info/bones-joints-muscles/tendinopathy-and-tenosynovitis-tendinosis/repetitive-strain-injury