How Long Does a Workers' Compensation Settlement Take?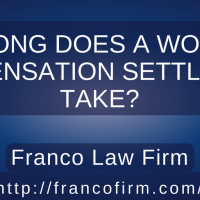 If you've been affected by an accident at work leaving you injured, you might be considering taking a settlement. A settlement is when the injured party and the insurance company come to an agreement to pay a lump sum as opposed to regular workers' comp. benefit. This may be in one payment, or in several over an agreed period of time. You may also be giving up your right to any future claims based on your injury, so it's important you ensure you're getting a fair amount to compensate for this.
So how long does your workers' comp settlement take? Well there's no easy to answer to that, as each case is unique and dependent on the individual circumstances involved. If the insurance company offers a settlement you and your attorney are immediately happy with, it usually takes 30-60 days after approval. This is the ideal, most straightforward situation, but unfortunately not the most typical. Often the insurance company will offer a figure you're unhappy with, and so your attorney will help negotiate a better deal on your behalf. You will then have to wait to see if they'll accept your counteroffer.
As compensation cases can be complex in nature, it takes time to work out the specific details and wording involved in your agreement. This means that a settlement can take longer than you might expect, with the average claim taking around 15 months. You could be awarded partial benefit (such a temporary disability) during this time to help you financially. Hiring a lawyer can often add additional time to a case, as the injured party is more likely to negotiate for a higher figure. Whilst it may be frustrating to wait, the resulting settlement is usually much more beneficial, with workers receiving on average a third more when they hire representation.
Workers' comp settlements is always a voluntary path to take, so only move forward with it if you feel it's right for your situation. If you need advice on how to approach your settlement, Franco Firm can help. Contact their team for expert guidance on how to get a fair amount in your settlement.