Workers' Compensation Benefits Explained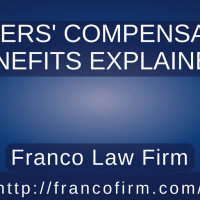 If you're lucky enough you'll never have to claim workers' comp, however it's always good to be aware of your rights and what benefits you're entitled to.
In Florida all companies of a certain size or type are required by the state to provide their employees with workers' compensation insurance (often shortened to just 'workers' comp'). This means if something does go wrong and you're injured in the workplace, your employer should cover any injury-related costs. In general it doesn't matter who is at fault for the incident; the comp will be received regardless.
What Does It Cover?
Payments cover a variety of different expenses, including:
Replacement of income (usually two thirds of the salary)
Compensation for injuries if permanent
Cost of medical care and treatment related to injury or illness
Cost of any applicable retraining if needed
It's important to note that workers' comp payments are usually on the modest side (although it's not taxed) and by accepting payments you're often agreeing not to sue for any further amounts in the future.
So How Broad is Workers' Comp?
In a word – very. This type of insurance is intended to cover a wide range of accidents in the workplace, whether they are a result of an employee, employer, or are purely accidental. That being said there are certain instances which are not applicable and compensation will not be provided. Examples of incidents which may not be covered by workers' comp include:
If the employee is under the influence of drugs or alcohol (if there is any doubt, the individual may be asked to take a test imposed by the  state)
If the employee was not working at the time (so was on their break for instance)
If the employee was not adhering to company policies
If the employee was not obeying the law
If the employee inflicted the injury purposely upon themselves
If you are unfortunate enough to get injured whilst in the workplace, it's imperative you file your claim as soon as possible. If you are having any complications related to an accident at work, contact the experts at Franco Firm .