Jetski Accidents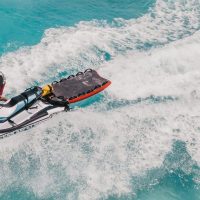 Just because fall time is slowly approaching, doesn't mean summer is over yet! The sun is still in full force here in FL and for some people, that means breaking out their Jetskis and making a splash. While we'll admit that there's no other feeling than the rush of excitement that comes over while taking a spin on the skis, it really is all fun and games until someone gets hurt. 
As one of the most popular watercraft in the U.S., there's no surprise that we see more and more jet skis out on the water every year. Unfortunately, this also means that we see more accidents occurring, and as a result, more injuries. Jet Ski accidents are commonly caused by either user error, negligence, or product malfunctions. If you are found responsible for the accident, you likely will not receive any compensation. However, if you are not at fault and there is another party responsible for the injuries, you probably have a strong case to file a claim.
Every year, about 130,000 people receive injuries from some kind of watercraft accident around the US. In Florida, those jetski victims may be able to claim compensation for expenses like medical bills, wage losses, and/or any sort of pain and suffering (Lawhancock). Courts need to consider all factors that could have possibly caused the accident before determining who is at fault, so it's important to record any and all evidence that you possibly can at the scene of the accident. Photos, videos, documentation, or anything else that can help to make your case stronger is a vital piece of information in order to receive compensation.
As mentioned in our latest "Boating Injuries" blog, The state of Florida requires anyone who is operating a PWC (personal watercraft) to be at least 14 years of age. They also require the completion of a National Association of State Boating Law Administrators approved boating course or a temporary certification exam. Additionally, anyone operating a watercraft is responsible for having all necessary safety equipment, and ensuring that flotation devices are readily available for all passengers. For more information on the rules and regulations of watercraft safety, visit the Florida Fish and Wildlife Conservation Commission's boating regulations.
When elements like Alcohol, reckless driving, or inexperienced operation come into play, accidents are more likely to happen. Most accidents that occur on the water are usually a collision with another watercraft or object, capsizing, or defects with the engine. In the event that there is a manufacturer error that caused the accident, the company that produced the jetski can be held liable and responsible for any injury that might have occurred.
The process of filing a jet ski accident claim can be a long one, and there are a lot of questions that you might need help answering. Insurance companies can be quite a headache to deal with, and working through an injury doesn't make it any easier. Throughout this difficult time, our experienced attorneys are here to make it simple for you and your family to receive the compensation that you deserve. If you are in need of legal assistance regarding a Jetski accident or related injury or are wanting to schedule a consultation, do not hesitate to give Franco Law Firm a call at (813) 872-0929 or email rvelez@francofirm.com.