Common Personal Injury Myths and Misconceptions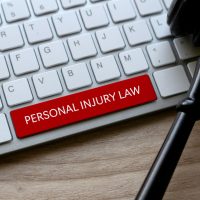 When it comes to personal injury claims, oftentimes, when people don't have the proper attorney's or assistance, they can struggle to get the compensation or justice they deserve. Unfortunately, this can cause misconceptions or misinformation about personal injury law and attorneys, so we are here to set the record straight!
Through the years, we have heard our fair share of personal injury claim stigmas and myths. However, we feel as though if you are going to seek out proper representation for your case, it should be an informed and accurate decision! Here are a few of the most common misconceptions and myths regarding personal injury cases.
Cases are never-ending
As we mentioned before, every case is unique in its own way, and every single case will require specific time frames or constraints. Often, people put off searching for a personal injury attorney simply to avoid a long and drawn-out legal process. On the contrary, an attorney can be the key to a speedy and prompt resolution of your case. In fact, most cases don't even make it to the courtrooms because they are resolved before it even comes to that.
Not all injuries warrant an attorney
Here at Franco Law Firm, we like to preach "No Case Too Small" because no matter how big or how small an injury may be, injuries can be a life-changing event and can have a considerable impact mentally, physically, and financially. Even though your injury may seem minor or insignificant, it could unexpectedly become worse. Your insurance may try and offer you a lower amount of compensation, which an attorney can help navigate. Even minor injuries can be costly due to medical expenses and/or x-rays that may be necessary, so even if your injury may seem insignificant at first, it's best to have a safety net for a claim.
Lawyer Fees will end up being more than the settlement
When it comes to hiring a personal injury attorney, usually the first determining factor people think of is cost. Most people have a common misconception regarding fees, in that fees are paid in bulk and directly out of your pocket. Luckily, for both you and the attorney, this misconception is false. Typically, a reliable and experienced law firm/attorney will always offer a consultation to discuss the details of your case and find the best possible route for you. It's also worth noting that most lawyers work on contingency fee terms, meaning that the lawyers get paid depending on the case's outcome.
"I have insurance, so I will gain compensation regardless"
Having insurance is helpful and essential for anyone, especially when it comes to covering any medical expenses or additional costs. However, this does not mean that you don't need an attorney to help navigate your case. Most Insurance companies only pay out about 50% of the costs that may be related to your accident and/or injury, and not all settlements end up gaining compensation. That's why having an attorney can significantly increase your chances of getting the compensation you deserve.
Have you heard any of these personal injury myths or misconceptions? Have we maybe changed your mind? Regardless of your injury, an attorney's role is to help right the wrongs in your life that were caused by the carelessness and malice of others.  It's also vital that your attorney has extensive knowledge of the local law, which is why our attorneys here at Franco Law Firm will exceed your expectations and not do our best to fight for you but also to win your case. If you or someone you know is battling a personal injury claim and needs assistance, we are happy to set up a free consultation. Give us a call at (813) 872-0929 or email us at  rvelez@francofirm.com. See you soon!