Summer Time Traffic In FL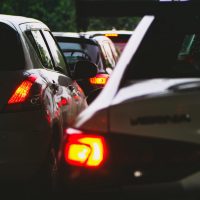 In Florida, it's always summer! Except it's actually the summer season now, and while that may seem exciting now, take a moment to think about it… Summer travelers… Snowbirds… Everyone's returning to work in the office… more rain… Have we made our point? Although the warmer weather is greatly appreciated, there's no denying that summertime traffic is the WORST, and as summer makes its way over here, the roads will become more congested by the second. 
All of these summertime hiccups will no doubt make quite a shift in our regular traffic routes. So to help alleviate those struggles, we decided to make a list of the top rules and laws of the road so that you and all other drivers can avoid any unnecessary accidents or added stress this summer. 
Basic Rules of The Road
As a refresher, here are some basic traffic rules that are often forgotten but are essential to road safety:
Pedestrians have the right of way— ALWAYS yield.
Seatbelts are not "recommended"— In FL, you must wear them by law.
Drinking while driving or Driving under the influence is illegal and can end up in fatality.
Texting while driving is illegal in FL and can end up in fatality.
When switching lanes, use your blinker to let others know you are about to pass.
Bicyclists must abide by the traffic laws, but do be aware of signs that state-specific bicycle road rules.
Common Causes
Car Accidents can happen for many different reasons, and most of the time, it's just that — an accident. But what exactly causes car accidents, and what do you need to be looking out for in order to avoid one? Some of the most common causes for Car Accidents include:
Drunk Driving
Distracted driving (ie: texting, talking on the phone, engaging in other activities/conversations, not paying attention)
Inclement weather (Read our Rainy Seasons and Car Accidents blog)
Running stop lights and/or road signs
Speeding
Reckless driving
The Accident
In the unfortunate event that you do find yourself getting into quite a fender bender, what should you do to ensure that you are protected physically and legally? First and foremost, assessing the situation and making sure you and anyone else in the accident are safe is a top priority. Once you know that everyone is okay, call 911 so that an officer can come to file a report and assess the accident further. As always, we encourage you to take any photos and videos of the vehicles involved and gather as much evidence/proof as possible to help strengthen your claim in the long run. Finally, after the report is filed, whether you are injured or not, call your personal injury attorney so they can help guide you through the logistics of your claim and alleviate any unneeded stress.
As the summer season approaches and you are planning something fun, don't forget to put your and other people's safety first, and understand that the decision you make while driving can and will impact the lives of others. Sometimes claims can become more complicated than they should, injuries could slow down timelines, and processes can become confusing when doing it alone. With the experience of Florida and Tampa law, our attorneys will be by your side to help guide you through this process and do our best to fight for you and win your case. To learn more and to book a consultation, please call us at (813) 872-0929 for a free consultation. Stay safe, and happy summer!