Types of Industrial Accidents in Florida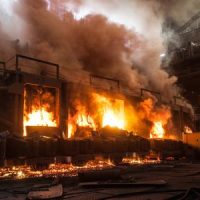 Industrial accidents are unfortunately quite common in Florida. Although the fields of artificial intelligence and robotics are advancing, average workers must still put themselves in harm's way in order to earn a living and power Florida's various industries. There are many types of industrial accidents, although all of these accidents have the potential to be life-altering and traumatic for entire families.
Nuclear Exposure 
Exposure to nuclear material is perhaps one of the worst types of industrial accidents imaginable in Florida. There are five commercial nuclear reactors in the state of Florida spread between three sites. One nuclear power plant at Crystal River has been decommissioned with no plans to restart it. None of the nuclear plants have experienced any large-scale disasters, although the potential is always there. Some partial meltdowns may have been covered up, and a 2012 report showed that a safety officer was fired for shutting down a leaking nuclear reactor in Port St. Lucie.
Another major talking point today is the potential use of nuclear material to build highways in Florida. Although this material may not affect the average motorist to a great extent, it may pose serious risks for the road workers who are tasked with transporting and using this material to conduct this industrial project.
 Explosions 
Explosions are also very dangerous types of industrial accidents. In 2023, an explosion occurred at a welding facility in Medley, killing two workers and injuring three others. Witnesses saw a fireball rise over the facility from miles away, and the cause of the explosion was never fully revealed to the public. There are many other industrial facilities that may deal with explosive material on a daily basis.
 Lead Exposure 
In 2021, the Tampa Bay Times ran a story on lead exposure at a factory in Tampa, claiming that "hundreds" of workers had been exposed to dangerous levels of the neurotoxin. The report speaks of dust clouds "laced with leads" billowing throughout the factory. These fumes were apparently inhaled by workers, and many of them brought the neurotoxins home to the families. Lead attacks the brain and central nervous system, eventually leading to convulsions, comas, and death.
 Molten Slag Accidents 
In 2022, Tampa Electric company was sentenced by a court in Florida for intentionally violating safety regulations. The sentence stemmed from an industrial accident involving molten slag that killed five people in 2017. The workers were attempting to clear a clogged tank at a coal-fired electrical generation plant outside Tampa when an explosion occurred, showering workers with molten slag. Molten slag is essentially lava.
 Where Can I Find a Qualified, Experienced Workers' Comp Attorney in Florida? 
If you have been involved in an industrial accident, you can discuss your legal options alongside a Tampa workers' compensation attorney. These legal professionals can also provide guidance if you have lost a family member due to a workplace accident. Although these accidents have the potential to be life-altering and traumatic, you may have options for compensation. Book your consultation today to discuss these options in more detail.
Sources: 
courthousenews.com/disturbing-tale-from-florida-nuclear-plant/
projects.tampabay.com/projects/2021/investigations/lead-factory/gopher-workers/
cbc.ca/news/canada/nova-scotia/emera-fine-workers-florida-killed-1.6558556