Who Pays Workers' Compensation?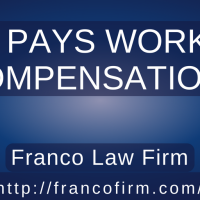 Workers' compensation is the payments you receive if you're unfortunate enough to be injured in the workplace. In the majority of states and businesses your employer is required to take out this insurance on your behalf, so if something bad does happen you'll be taken care of for as long as is needed. The purpose of workers' compensation is protection for all parties involved.
Do I Have to Contribute to Workers' Comp?
So as mentioned above, you as an employee do not have to pay for your workers' comp. insurance – the onus is on your employer. If you're an employer with even one person on your books, you should check you state's law to see if you're obligated to provide them with insurance.
In Florida the minimum figures legally required to have workers' comp are as follows:
Construction – one or more employees
Non-construction – four or more employees
Agriculture – six or more employees/12 seasonal employees
Sub-contractors – responsible for their own workers' comp, however the primary contractor still has to ensure the sub-contractor is supplying the coverage.  If you as the primary contractor do not verify this, then if there's an injury you'll be liable for the costs of the compensation.
Employers are obligated to pay workers' comp to an insurance provider; however you as an employee also have certain responsibilities to carry out. In the majority of workers' comp cases, even if the employee is at fault they will still receive payments – however there are certain instances (such as if the individual is intoxicated) which deem the claim ineligible. You must also report any accidents to your employer as soon as possible so they can contact the insurance provider promptly. You should also visit the medical provider stated by the insurance company (unless it's an emergency). Keep copies of all your medical records and be sure they contain all the relevant details to make the process as smooth as possible.
It's also advisable to find out more about your workers' comp generally, even if you're not injured. Your employer will likely have a leaflet with further information.
If you've claimed for workers' comp and have been denied or the insurance company has offered you a settlement, you might be considering hiring a lawyer to help guide you through the process. If that's the case and you want an experienced organization representing you, contact Franco Firm.