Bicycle Accidents & Head Injuries- Be Prepared!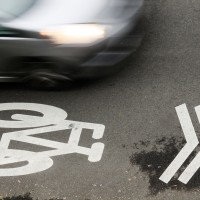 Head injuries, like concussions, can cause a laundry list of problems, from long-term and short-term damage to mental and physical issues ranging from minor to severe. Depending on the severity of the accident, these injuries can have the potential to be temporary or affect you the rest of your life. Traumatic brain injuries are no joke, and according to the CDC, bicycling accidents account for the top sport and recreational related emergency room visits.
Now that the new year is upon us, many of our friends and families are starting their "new year, new me" resolutions. In a state where we are blessed with sunny weather most of the year, many people are turning to bike riding as a leisure activity to jump-start their healthy living resolutions in this beautiful Florida winter weather. However, sometimes the ride isn't always so pleasant for the bicyclist, and accidents can happen. According to the Florida Highway Safety and Motor Vehicles Department, in 2021, there were 5,646 bicycle crashes in the state of Florida, with 153 leading to fatalities.
Thankfully, Florida's infrastructure is kind to bicycle riders. Most major roads have specific lanes designated for cyclists, which give them enough room to ride around without directly being affected by moving automobile traffic. Here in Tampa, the city has been making many improvements to help safeguard bicyclists, like creating more bike lanes throughout the city and painting the bike lanes green to stand out for motor vehicle drivers.
With that said, all of these city-wide changes should help limit the number of accidents; however, accidents will still happen. Warning signs will be missed, drivers will still be reckless, and bicyclists will still have to be aware of the motorists around them. Some of the most common accidents are:
Drivers distracted by their cell phones
Speeding drivers with less time to step on the brakes
Unsafe lane changes
Failure to yield, running a stop sign or red light
Drivers under the influence of drugs or alcohol
Fatigued drivers
Unfortunately, head injuries are common in more major motor vehicle accidents and especially for auto accidents involving bicyclists. While these injuries can be avoided, they often cannot be and should be handled efficiently. The best way to prevent brain injuries, at least for bicyclists, is always to wear a helmet while riding. While this is not a legal requirement in the State of Florida, it is undoubtedly a smart choice and majorly helps reduce the risk of head injuries in the event of an accident. 
As with all injuries, it is essential to do two things as soon as possible after the injury is sustained. The first is, of course, to seek medical treatment to minimize the potential for long-term damage and to treat any immediate trauma. Secondly, however, it is critical to document any injuries as they happen. Medical treatment is, of course, a way to do this, but adding such details to an accident report is always a good idea. The more extensive the documentation of an injury, the more "valid" it is in court, which is vital for seeking compensation for an injury.
Thankfully, if there is an accident involving brain or head injuries, the at-fault party is almost always liable to compensate the injured since these are usually considered major injuries. In this case, it is undoubtedly helpful to have an attorney on your side who can fight for this compensation so that you can acquire the funds you need to pay for the sometimes lengthy medical treatment process. To learn more about an expert brain injury lawyer at the Franco Law Firm, please call us at (813) 872-0929.