Workers' Compensation, Social Security Disability, or Personal Injury—Which Representation Is Right For You?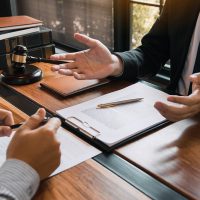 If you've been involved in an accident and it has caused you to suffer (financially, medically, and/or emotionally) you might be able to claim compensation. Franco Law Firm, our areas of expertise cover a broad range of legal issues. Learn the differences between these three kinds of legal representation to determine which is right for your case.
Workers' Compensation
If work injuries make it impossible for you to return to your usual job, you are considered to have a disability. Benefits differ according to the duration and severity of your disability.
The types of Workers' Compensation Disability available in Florida are:
Temporary Partial Disability
Temporary Partial Disability is paid when a work-related injury temporarily prevents a worker's ability to work and earn full wages.
Subject to subsection (7), in the case of Temporary Partial Disability, compensation shall be equal to 80 percent of the difference between 80 percent of the employee's average weekly wage and the salary, wages, and other remuneration the employee is able to earn postinjury, as compared weekly; however, weekly temporary partial disability benefits may not exceed an amount equal to 66.67 percent of the employee's average weekly wage at the time of the accident.
Note: All injuries are first temporary, even those later found permanent. All benefits are also subject to the maximum weekly amount.
Temporary Total Disability (TTD) 
Temporary Total Disability benefits are paid when a work-related injury or illness temporarily prevents a worker from returning to the pre-injury job or another job for the same employer, but only on a temporary basis. The worker is entitled to the total allowable wage benefit.
Permanent Total Disability (PTD)
Permanent Total Disability is paid when a worker's wage-earning capacity is permanently and totally lost. A person who qualifies for PTD benefits has suffered a catastrophic injury and may never be able to perform any type of work again as a result.
There is no limit on the number of weeks payable. In certain instances, a worker may continue to engage in business or employment if their wages, combined with the weekly benefit, do not exceed the maximums set by law. PTD benefits are equal to two-thirds of your pre-injury average weekly wages, up to a maximum cap
In the case of total disability adjudged to be permanent, the employer shall pay 66.67 percent of the average weekly wages to the employee during the continuance of such total disability. No compensation shall be payable under this section if the employee is engaged in, or is physically capable of engaging in at least sedentary employment.
Impairment Benefits (IBs)
An impairment benefit is a once-off lump sum payment to compensate injured workers who have a permanent impairment resulting from a work-related injury or illness.
In most Impairment Benefits cases in Florida, your benefit check, which is paid bi-weekly, will be 66 2/3 percent of your average weekly wage. If you return to work and earn pre-injury wages, benefits will be reduced by 50 percent.
You can calculate your Impairment Income online here: https://www.myfloridacfo.com/division/wc/employee/calculators/ibcalc.htm
As workers' compensation attorneys, if you have been injured on the job, we will fight to recover your compensation, including medical costs, lost wages, and occupational rehabilitation expenses—regardless of any negligence or fault on your part.
The most important thing to remember is to know your rights as an injured person in the workplace, whether you are salaried or working under the table. Barring any influence of drugs and alcohol, which can void a workers' compensation claim, every person injured in the workplace is entitled to compensation without proving fault or cause.
If your employer or the insurance company does not comply, they violate state law, and you should consult an attorney to help you ensure you receive what you deserve. To learn more about how the Franco Law Firm can fight for your workers' compensation claim and help you through the process, please call us at (813) 872-0929.
Read our Glossary of Workers ' Compensation blog to learn more about Worker's Compensation and related legal terms.
Social Security Disability
While Social Security Disability is similar to Worker's Compensation in that both provide lost wage provisions and medical benefits, they are not the same. Workers' compensation is for injuries and accidents that occur at work. Social Security Disability can be for any medical condition, regardless of whether or not it happened at the workplace.
If you are disabled and can't work, you may be eligible for Social Security Disability (SSD) benefits; SSD supplements lost wages for disabled individuals who can no longer maintain gainful employment and earn a living. Applying for these benefits can be a complicated legal undertaking, and you will be required to meet specific criteria to qualify, depending on your state.
10 of the most common conditions that qualify for disability are:
Arthritis
Heart Disease
Degenerative Disc Disease
Respiratory Illness
Mental Illness
Cancer
Stroke
Nervous System Disorders
Diabetes
Immune System Disorders
There are many moving parts involved in collecting disability benefits. Read our Disability Benefits: Explained blog to learn more, or better yet, contact us! Having an attorney who is well-versed in disability benefits on your side can help you navigate this process and ensure that your benefits are received. Our attorneys at Franco Law Firm have the required experience and expertise that will act as a helping hand and are more than happy to set up a free consultation with you. Call us at (813) 872- 0929 or email us at sguerra@francofirm.com.
Personal Injury
Personal injury is a legal term for an injury to the body, mind, or emotions instead of an injury to property. In common-law jurisdictions, the term is most commonly used to refer to a type of tort lawsuit in which the person bringing the suit has suffered harm to their body or mind. As personal injury attorneys, we defend clients who allege that another party's negligent or wrongful actions caused them personal harm.
Although many personal injury claims involve car accidents, they cover a variety of other cases as well, including:
Defective Products
Medical Malpractice
Slip & Fall Accidents
Head Injury
Dog Bites
Defamation
Birth Injury
Catastrophic Injury
Wrongful Death
Negligence
Boating Accidents
Automotive Accident
Regardless of your injury, it's imperative to familiarize yourself with local laws. Read our blog, What to Know Before an Insurance Adjuster Comes to You About a Personal Injury Claim to learn more, and consider working with experienced attorneys like our own. If you or someone you know is battling a personal injury claim and needs assistance, the attorneys at Franco Law Firm are happy to set up a free consultation. Call us at (813) 872-0929 or email us at sguerra@francofirm.com.
No matter the circumstances, we always go above and beyond to protect our clients' well-being & interests. Contact us today!