Common Beach Injuries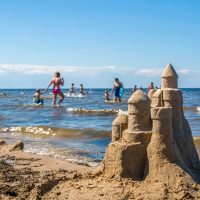 With this Florida weather finally warming up, you're probably itching to plan a much-needed beach day — at least, we know we are! Since more and more people are breaking out their swimsuits and sunblock, and are finally enjoying some fun in the sun, we are here to remind you of the safety precautions that should be taken while on your outing. It probably goes without saying, but although full of fun and excitement, the beach is also full of hazards that could cause injuries of all kinds. So what kind of injuries can happen at the beach? What can you do to prevent them, while not impacting your fun?
When planning your beach day, an injury typically isn't on the agenda — but that doesn't mean it won't happen, and it doesn't mean you shouldn't plan ahead for one JUST IN CASE. We always recommend packing a basic first aid kit to prepare for your beach excursion, so that you and your group have things like bandaids, gauze, and maybe even some triple antibiotic ointment. You never know what you may step on in the water! Plus, it's always a good idea to expect the unexpected.
SunBurn
We've all been there… After a nice beautiful day out on the beach you come home, shower, and suddenly notice that you may have turned into a bright red lobster. Ouch. Avoid the burn next time, apply sunblock not just when you arrive, but periodically throughout the day as well! Also, check the weather next time you plan a beach day. If the UV rays are higher than usual, perhaps bring a higher SPF sunscreen to better protect you from the sun. Either way, save yourself the pain and suffering.
Animal-related injuries
The beach has more than just hungry seagulls surrounding its perimeters. If you are swimming or playing in the ocean, just remember where you are. Florida waters are no stranger to sharks, stingrays, jellyfish, crabs, or curious fish, and if you're not careful or paying attention, you could end up getting stung, bit, or pinched at any given time. Do the stingray shuffle (especially during mating season), and stay in shallow waters so you are able to keep an eye out for anything swimming around.
Skin lacerations, Head Injuries
As we mentioned before, you never know what you may step on in the water. Broken shells and rocks are all inside the sand, in and out of the water, so if you should find yourself with an open wound, cover it up with a bandaid and triple antibiotic to avoid infection until you can get home. On a more serious note, Head Injuries are always the most severe injuries that you can encounter, so be careful of anything that could cause a head injury, like trips and falls, or roughhousing.
Heat Stroke/ Dehydration
Sometimes, in all the craziness that is the beach, we can often forget to hydrate or replenish our fluids throughout the day. This can lead to serious dehydration or heat stroke depending on the weather. Be prepared with A LOT of water to stay hydrated and always allow your body time to cool off while being out in the open. Find a shady corner, or umbrella that you can use to relax and calm down, and get back to the fun when you feel re-energized.
Trust us, we know how exciting and exhilarating the beach can be, but we want you all to go with safety as your top priority, and understand that injuries are never something you can plan for– But they are something you can try to avoid. Accidents and injuries put a lot of strain on you physically and financially, and if you find yourself inflicted with an injury, you will require time to heal and recover from your wounds. If you or someone you know has been injured as a result of someone else's negligence, you can count on us to get you justice, and have you feeling great again. Call us for a free consultation today at, (813) 872-0929. Be safe, and we'll see you next time!