Rainy Season and Car Accidents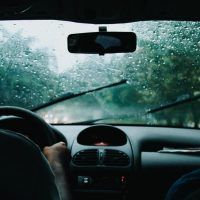 It's officially springtime, and the old adage saying is true — April showers really do bring May flowers. Not only have everyone's allergies been all out of whack thanks to the increase of pollen this season, but you might have also noticed that it's been a bit more rainy than usual. Obviously, we live in Florida, so rain is not unusual, however, it is now the official rainy season which means we can expect the roads to be wetter and more dangerous than ever. As if the roads weren't already bad enough, adding torrential rainfall into the mix only makes it more dangerous and it's important to understand how you can help avoid accidents.
Did you know that Florida has been deemed one of the top 5 wettest states in the U.S.? On average, we can receive about 53.7 inches of rainfall yearly, and 4.5 inches of rain monthly (WorldAtlas)! Because of this, our highways and roads become very hazardous to drivers and continue to cause too many car accidents each year. So how can you avoid a rain-related car accident? What can you do to ensure your safety and everyone else's?
Check/replace tires to improve handling and grip while driving
Avoid puddles/pools of water
Abide by the posted speed limits
Check/replace windshield wipers so that your vision is not obscured
Avoid braking too hard or making quick turns
Allow enough room in between your car and other cars
Turn down the music so that both eyes and ears are alert on the road
Check/replace headlights, tail lights, and/or brake lights, to ensure other cars can properly see your vehicle.
Hydroplaning
As one of the most common causes of rain-related car accidents, hydroplaning is important to know about. Whether you're a new driver or have been driving all your life, hydroplaning can happen to anybody. This is typically caused when the surface of the road builds up a thin layer of water between the tires and the pavement and makes it hard for you to control the car. This causes the vehicle to skid or slide across the road, which could result in a serious or fatal accident. 
The Accident
A car accident can be a scary and emotional event and you will want to make sure you follow a few easy steps.
Assess the situation and make sure that you and anyone else in the accident are ok.
Call 911. Whether there is an injury or not, you want to make sure you call the police and an ambulance.
Take photos and videos of the accident, all vehicles involved. This will potentially be used later for insurance claims and any suits you may need evidence for.
Once the police arrive, work with them and follow any instructions so they can access the situation, take down any information, and file a report on the accident.
Once the report is filed, you are safe and not injured, call your personal injury attorney. They will be able to help guide you through any insurance claims and possible lawsuits that arise from the accident.
Any car accident can be a long and stressful process, and you will probably have a lot of questions along the way. That's why our talented team of professionals at Franco Law Firm is here to guide you through this difficult time. We make it simple for you to receive the compensation that you deserve and want you to feel confident about your claim. If you are in need of legal assistance regarding a car accident or personal injury or are wanting to schedule a consultation, do not hesitate to give Franco Law Firm a call at (813) 872-0929 or email rvelez@francofirm.com. Stay safe out there!