Filing Workers' Compensation Claims After Florida Forklift Accidents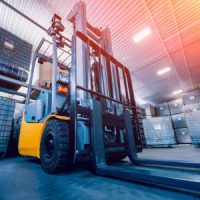 Forklifts are common across many Florida workplaces – including warehouses, docks, and construction sites. Although many workers may be instructed to operate them, not all of these employees feel confident about getting behind the wheel. And when you consider the high number of forklift accidents in Florida, this shouldn't come as a huge surprise. But what can you do if you have been injured in a Florida forklift accident? Is it possible to recover compensation through workers' compensation?
Forklift Accidents Are Common in Florida 
On February 24th of 2023, it was reported that a worker had lost his life after a forklift fell on him in Hillsborough County. The man was driving the forklift when he lost control. The forklift then tipped over, falling on top of the individual and crushing him. These types of accidents are very common.
On February 14th, it was reported that a Florida woman had lost her life after being run over by a forklift. The accident occurred at Daytona Beach, and it involved a loading accident. A worker was attempting to move material out of a truck when he reversed and struck a woman in her 60s. This worker had his eyes fixed on the material and the truck, and he did not see the pedestrian. According to the Public Safety Director on site:
"The driver has told us that he was looking between the two loads. There was a small space between the two loads. That he was looking there and never saw the pedestrian. Unfortunately, when someone told him to stop, he backed up and most likely ran over her again."
 These are just two examples of recent forklift accidents in Florida, and there have been many others over the years.
Why Are Forklifts So Dangerous? 
One of the most common reasons for forklift accidents is inadequate training. Workers are often encouraged to start operating forklifts after watching a few simple training videos. These workers may be unaware of the true danger associated with these vehicles. One accident that is extremely frequent involves drivers being crushed by their own forklifts.
These accidents typically occur when drivers tip their forklifts and panic – attempting to jump out of the vehicle before it falls over onto its side. However, the safest place to be in this situation is actually inside the forklift itself – as drivers are protected by a roll cage. By jumping out, workers only increase the chances of being crushed.
Where Can I Find a Tampa Workers' Comp Attorney? 
If you've been searching for a Tampa workers' compensation attorney, look no further than Franco Law Firm. We know how dangerous forklifts can be, and we can help you get the compensation you need to heal from your injuries and cover lost wages. No American worker should have to pay for these costs out of their own pocket. Get in touch today to approach your claim with a sense of confidence and efficiency – even if you've already been denied.
Sources: 
abcactionnews.com/news/region-pinellas/forklift-fell-on-plant-city-man-dies
wfla.com/news/florida/florida-woman-killed-after-getting-run-over-by-forklift