New Year's Eve Personal Injury Dangers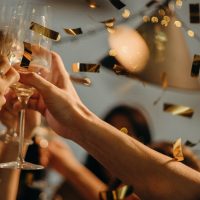 The New Year is quickly approaching and while we absolutely love seeing all of our clients, seeing us might mean that something not so great may have happened to you. Instead of feeling down in the dumps let's start the year off by avoiding injuries!
Below are a few New Year's Eve Personal Injury Dangers to look out for.
Drunk Drivers – It's New Year's Eve and for many of us, tonight is one of the best nights of the year to go out drinking while celebrating with friends and family. With ride-sharing apps quickly becoming mainstream, a lot of the worry of drunk driving has subsided, but it is, and always will be something to be aware of. Thousands of people a year end up hospitalized for drunk driving incidents. When out enjoying your evening, be extra wary of those driving around you. If you see someone swerving, stay a safe distance away, call the police and proceed with caution.
Slips & Falls – This is Florida and although we don't have snow, sleet, or black ice to worry about, we do have some things to be aware of. While you're out enjoying the night keep an eye out for spilled drinks, the drunken stumbles, and… stairs.
Over Drinking – It's true, you CAN over drink! When you are having a good time it is easy to reach the point of alcohol poisoning. Make sure you supplement your alcohol intake with a glass of water and some late-night tacos. That way you stay hydrated, fed, don't embarrass yourself, and may potentially save yourself from a trip to the ER.
Accidental Firework Injuries – They are bright, beautiful, and a great way to celebrate a countdown – when done correctly. Before setting off any at-home fireworks, make sure you read the packaging, stand a safe distance away, never point them at yourself or others, keep them away from children, and keep a bucket of water close by.
Fire Accidents – You decided to stay home with a few friends to celebrate by a fire. It sounds magical, and it is, but let's choose safety first. Make sure your fire is a safe distance away from any fences, structures, or flammable items. Make sure the kids stay a far enough distance away from open flames. The last thing you want to do is ring in the new year with 3rd-degree burns.
Our team would like to wish everyone a very safe and Happy New Year. If anything unfortunate does happen, don't fret, we are here for you. For any personal injury inquiries, contact us at 813.872.0929 or rvelez@francofirm.com.