Your Uber/Lyft Got Into An Accident. What's Next?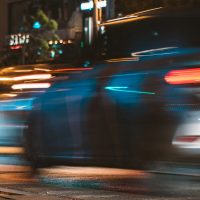 Picture this – It's 1:30 am and you are leaving your favorite karaoke bar with your friends. You've had a lot to drink so you decide to leave your car for the night and instead snag an Uber or Lyft home. You're adulting and trying to stay safe! Good on ya.
1:32 am: Ryan, your driver pulls up to the bar. You quickly confirm he is the correct driver because… safety first, then hop into the car.
1:45 am: You are now only a few minutes away from home but don't realize because you are living for the nostalgia of the driver's digital version of some 90's hit song from "Now That's What I Call Music Volume 5." All of a sudden, BANG! The driver, who was distracted by your singing had unintentionally blew right through a red light immediately getting t-boned in the middle of the intersection.
1:46 am: Dazed and confused your eyes flutter open. You feel something wet on your forehead and reach up to learn that your head is bleeding. It's clear you've been in an accident. After the shock of the situation, you more than likely find yourself thinking, what do I do?
Most people don't think this particular scenario can't happen to them – but trust us, they do! So, what can you do? Who pays for the medical bills? Can you sue Uber or Lyft?
Interestingly enough drivers of ride-sharing apps do not directly work for the business as an employee. They're hired through the app as a contractor. The app collects your funds and splits them between the driver and the company. This means that the driver is a "work for hire" and not an employee. This takes fault and any obligation off of the company and instead places it on the driver and their insurance.
Since Florida has the "vicarious liability" rule, you can not extend a lawsuit to include Uber or Lyft as a responsible party. While this particular rule does make it harder to get compensation for your accident from the company, it is not impossible.
Uber and Lyft do require each driver to have a valid insurance policy to cover any accidents or injuries to themselves and passengers, however, depending on your injuries and exorbitant medical costs, they will not be able to cover ALL of your expenses. Knowing this, both organizations have their own $1 million insurance policy to step in and cover the costs, as long as it was the drivers' fault. Therefore, you would be able to sue the at-fault driver, and their insurance and Uber or Lyft would cover any expenses.
With all of that said, if you are going through this particular scenario or a similar situation, there is a laundry list of things to make sure you do. Franco Law Firm is here to help you through this legal roadmap. Our goal is always to get you the compensation you deserve. Contact us today to get the process started.