What To Do If You Fall Off A Roof At A Florida Construction Site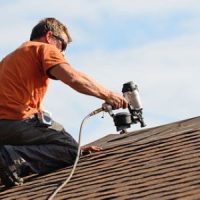 Falling from a roof is sadly quite common in construction sites across Florida, and these accidents can lead to serious, life-altering consequences. So what exactly should you do if you suffer this injury in the Sunshine State? Your first step should be to get in touch with a qualified, experienced workers' comp attorney. These legal professionals can guide you towards a fair level of compensation that you need and deserve. A recent roofing accident in Florida highlights the serious nature of these accidents.
Worker Loses Life After Falling from Roof in Deltona 
On May 23rd of 2023, it was reported that a construction worker had fallen from a roof in Deltona. Unfortunately, this victim did not survive. The 9-11 call was recorded and later published online – and his co-workers apparently believed that he was merely unconscious at first. As new details emerged, the story became even more shocking. Numerous witnesses say they saw the victim get struck by lightning before falling through an opening in the roof – onto solid concrete.
Police later found evidence that he had indeed been struck by lightning, including singed clothing and the smell of burned hair. The worker was apparently originally from Guatemala, and medical workers are currently conducting an autopsy to determine his cause of death with more accuracy.
This incident poses a number of questions. Can a victim's family still file a workers' comp claim even after an "act of God" like this? The answer is almost certainly "yes," because workers' comp is essentially a no-fault system. This is the same system that Florida follows for auto crashes – and it means that you can receive compensation without proving that anyone's negligence caused the accident.
This will almost certainly lead to a wrongful death claim under workers' comp. This type of claim allows family members to receive compensation on behalf of an injured worker. This can help limit the financial burden of funeral expenses and unpaid medical bills that the worker may have left behind on their deathbed. In addition, this type of claim can also provide compensation for missed future wages.
Finally, what might happen if this Guatemalan worker turns out to be an undocumented migrant? Once again, his family would likely still have the opportunity to file a workers' comp claim. Florida allows undocumented workers to file claims without any legal barriers – as long as they meet the same requirements as any other worker.
Where Can I Find a Qualified, Experienced Workers' Comp Attorney in Florida? 
If you've been searching for a qualified, experienced Tampa workers' comp attorney, look no further than the Franco Law Firm. We know how traumatic and life-altering these injuries can be. Whether you were working as a roofer, a tradesperson, or an average construction laborer, you are entitled to benefits and compensation under workers' comp. With our help, you can fight for your rights as an American worker and get on with your life to the best of your abilities. Reach out today, to book a consultation.
Sources: 
wesh.com/article/deltona-construction-worker-lightning-killed/43978931#
myfloridacfo.com/division/wc