With New Technology Comes New Injuries: Future Concerns For Florida Workers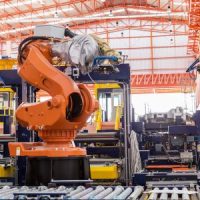 New technology might make our lives easier, but it might also create new risks for workers in the Sunshine State. This is not a new concept, and we have seen many examples of this throughout history. During the Industrial Revolution, farm workers were transplanted into factories with poor working conditions and negligible safety systems. Even though technology improved during this period, worker safety clearly declined. We see the same patterns emerging today in Florida. But what exactly do you need to watch out for as a Florida worker? Let's find out:
Injured Space Industry Workers 
Florida has one of the most active space industries of any state, with companies like SpaceX and Blue Origin maintaining active launch sites and facilities in the Sunshine State. As you might have guessed, there is considerable danger associated with this industry. Whether you're working as a technician or an astronaut, there is always the risk of an accident. These accidents have claimed many lives in the past, and workers should feel confident in their ability to recover compensation. Their families should also have the ability to access financial support if the unthinkable happens.
However, Florida is actively limiting access to these funds with new bills like SB 1318. This bill would offer these space companies more protection from injury lawsuits in the future. While workers would still have the ability to file workers' comp claims, this shows a trend towards protecting big corporations rather than innocent workers. As the space industry continues to evolve in Florida, more space workers will find themselves exposed to various dangers. Within a few decades, it might be relatively common for workers to take trips into orbit.
Robotics 
It's no secret that at some point (maybe soon), robots are going to replace millions of workers across various industries. Amazon is one company that is actively trying to upgrade its factories with robots – thereby eliminating human workers who are constantly filing workers' comp claims for serious injuries. Robotics is a very complex issue in the employment world. It has the potential to increase safety, but it also has the potential to put millions of people out of work – perhaps causing more harm than good.
And while some evidence shows a decrease in accidents when factories are upgraded with robots, other statistics show an increase in substance abuse when robots are introduced. This could indirectly increase workplace accidents, with workers becoming intoxicated while letting robots do complex tasks. In addition, accidents involving robots still occur – and they are often catastrophic in nature. Recently, a robot broke a child's finger during a chess match.
Where Can I Find a Workers' Comp Attorney in Florida? 
If you've been searching for a qualified, experienced Tampa workers' comp attorney, look no further than the Franco Law Firm. Over the years, we have helped numerous workers throughout Tampa. We know that new technology poses many risks to workers, and we're ready to fight for your rights if you have been harmed on the job. Reach out and book a consultation at your earliest convenience. Even if your claim has already been denied, we can help you strive for the best possible results.
Sources: 
floridapolitics.com/archives/607844-senate-approves-bill-protecting-spacex-blue-origin-from-civil-lawsuits-if-crew-members-are-killed-or-injured/
wlrn.org/science-technology/2023-03-10/aerospace-companies-could-get-legal-protections-under-florida-law
cybernews.com/security/chess-robot-broke-seven-year-olds-finger-during-tournament-but-how-rare-is-such-a-case/