Claiming Short-Term Disability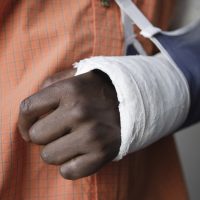 For those who may be unaware, there are two main types of disability policies, short-term and long-term. Both types of disability coverage come with their own rules and regulations and it is valuable to understand the difference between the two. In our next couple of blog posts, we will help you to understand the difference between these necessary benefits.
Short-term disability is an insurance benefit that provides income replacement or compensation for non-job-related injuries or illnesses that renders you unable to work for a short period. The majority of short-term disability policies cover you for a range of three to six months and depending on your plan it can typically cover you for things like:
Childbirth
Major surgeries with long recovery
Illnesses that require frequent treatment
An accidental injury that requires time to heal
Mental health
If you are lucky the company you work for may have short-term disability coverage as an added benefit for their employees. This coverage is subtracted from your paycheck as a pre-tax benefit, which is a big perk when considering your benefits package at a potential employer. However, in many states, your employer is not required to offer you short-term (or long-term) disability. If your employer does not provide this benefit for you, you are able to purchase this insurance through a qualified insurance provider.
While it may seem like these insurances are built into your health insurance plan, or a given to you by your employer, that is unfortunately not the case. The state of Florida does not require that short term disability be paid to workers that need a brief absence from work so understanding the importance of these specific benefits is key. If you do happen to have short-term disability coverage from your employer and find yourself having to file a claim, the claim must be filed with the actual insurance company in order to receive benefits. Depending on the coverage and insurance policy the providers pay a certain percentage of your normal earnings for a limited amount of time.
If you find yourself with a health condition or injury that might result in short-term disability, The Federal American Family and Medical Leave Act (FMLA) is constructed to help employees claim unpaid job-protected leave for either medical or family reasons. FMLA is usually applied to companies with 50 or more employees and all public agencies, and employees could be eligible if they've worked for the employer for at least 12 months or a minimum of 1,250 hours (dol.gov).
Making a short-term disability claim can be a daunting process. Each claim is different depending on your provider, so the more information that can support your case the better. As we have stated in our workers' compensation blog, be sure to collect any documents from your doctor that list your injury or illness, have all related documents filed, and be ready for any possible scenarios.
Lastly, just because your claim was filed doesn't mean that you are good to go. Many times claims are denied. If your claim happens to be approved, there may be a chance that you are fired from your position while on leave — yes, that is right, just because you are on disability leave does not mean that your job is safe.
If you are ever denied coverage or feel wrongfully terminated, Franco Law Firm is here to help you through the process. To schedule a consultation, give us a call at (813) 872-0929. Also stay tuned for our next blog, where we cover long-term Disability and how it differs from short-term. Until next time!