Franco Law Firm's Workers Compensation Guide Book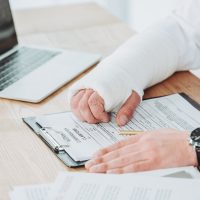 Mistakes often happen in fast-paced workplaces. Things can go wrong, and people may get hurt. In the State of Florida, the law is very clear about employee rights, especially regarding worker's compensation cases or work-related personal injury cases. For instance, a worker does not have to prove that they weren't to blame for the accident. In fact, no-fault has to be proven at all. All that matters is that an injury was sustained while at work; therefore, the employer is liable. If another party is at fault, such as the actions of a coworker, a personal injury claim could be made, but this creates a different case entirely.
Regardless of how a workplace injury was sustained or who was to blame for the accident, a company or business cannot deny an injured worker their right to receive compensation for accidents that occur at the workplace. As infuriating as it may sound, many unethical employers out there will try to work around this system and deny workers' compensation claims. Unfortunately, this is not uncommon, as employers use this as a scare tactic. Companies often come off as having more experience, knowledge, or a more extensive legal team to intimidate you. Some of the red flags for injured employees to look out for are:
The employer is willing to settle for part of, but not all, necessary medical costs.
They create a temporary position, which will be eliminated as soon as the injury has healed.
They will try to send you to a doctor known for shady practices of "accidentally" misdiagnosing common workplace injuries.
Employers may try to threaten you with termination if you file a claim.
They also may try to agree to a one-on-one settlement — which in many cases are much smaller than what you deserve.
Thankfully for you, cases involving employee rights are often easier to win than other types of injury cases, so don't let them get under your skin. Hiring the right worker's compensation lawyer is crucial to receiving your deserved benefits. To help with the process, if you are injured at work, make sure you follow the following 4 steps.
Call 911. If you have been injured, documentation is everything. Call the paramedics and get checked out for any significant injuries.
Report the injury to your employer. Every company should have its own process for filing an injury report. Make sure you list everything that happened in as much detail as possible — and acquire copies.
After the accident, if there were no life-threatening injuries, make an appointment to visit your doctor. Not only is this beneficial to your health, but it also adds a doctor's records to the case, which can prove the injury if it needs to be established in a court of law.
Contact an attorney. Whether your employer is following the law or not, consulting a worker's compensation lawyer can help you navigate the legal process.
The most important thing to remember is to know your rights as an injured person in the workplace, whether you are salaried or working under the table. Barring any influence of drugs and alcohol, which can void a workers' compensation claim, every person injured in the workplace is entitled to compensation without proving fault or cause for the injury. If the employer or insurance company does not comply, they violate state law, and you should consult an attorney to help you ensure you receive what you deserve. To learn more about how the Franco Law Firm can fight for your workers' compensation claim and help you through the process every step of the way, please call us at (813) 872-0929.